Atlanticus has been in business for over 25 years.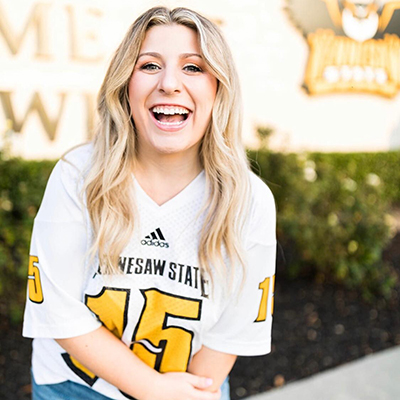 The average tenure of Atlanticus employees is over 8 years.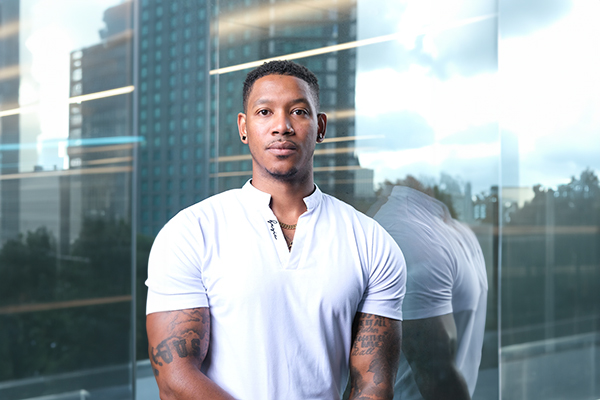 Work With Us
Headquartered in Atlanta, Georgia, Atlanticus has facilitated financial solutions that empower everyday Americans. Our employees are the heart of our company and the foundation for our product and service innovations. We take great pride in hiring the brightest in the business all while providing our team with a work-life balance that allows them to achieve goals in all aspects of their life. We promote long-term employee growth through ongoing training, lunch & learn sessions, community service opportunities and we make it a priority to promote from within. Our average employee tenure is more than 8 years with Atlanticus and more than 10 years on average for both Atlanticus and Car Financial Services. We offer a lot of great benefits, including:
Generous Paid Time Off and Holiday Schedule
401K with Match
Healthcare Plans (Including medical, dental, vision, life, supplemental plans, wellness plans, HSA and FSA, STD/LTD and more)
Employee Stock Purchase Plans
Ongoing training (lunch & learn, financial health webinars)
Team volunteer outings during work hours
Activities in our Corporate office
Don't take our word for it, though. You can
read what team members say about working with Atlanticus
.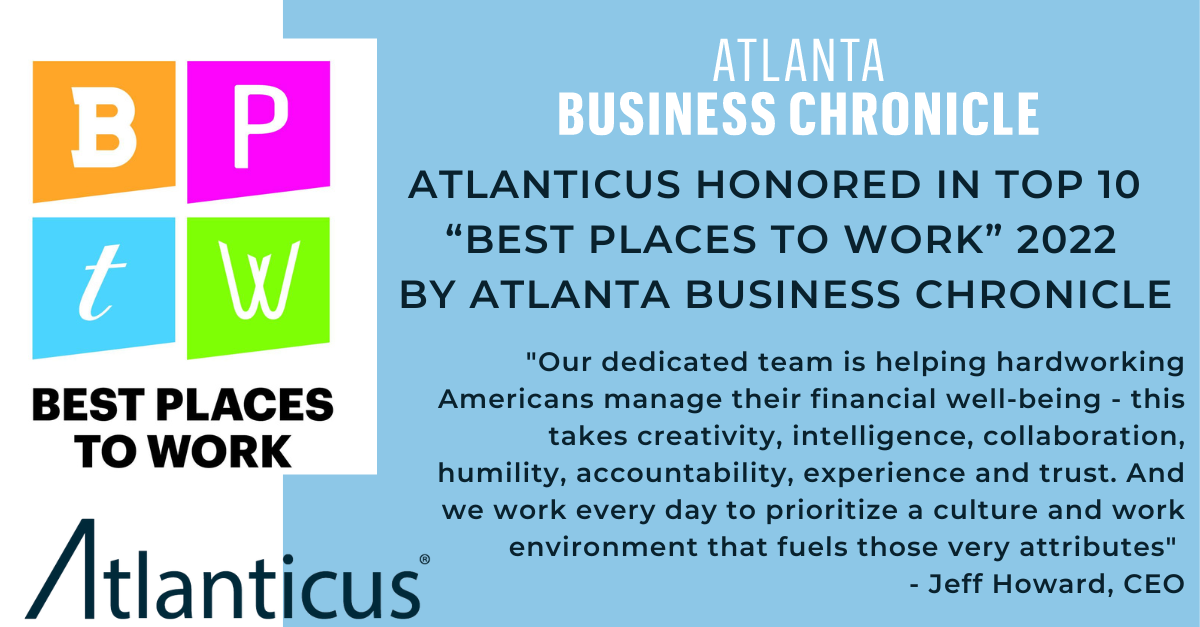 We are honored to be named in the top 10 of Best Places To Work in 2022 and 2023! We celebrate our employees' hard work, collaboration, and creativity by fueling a culture that promotes their success and job satisfaction while maintaining a work-life balance.
We consistently organize activities that support our values at Atlanticus, such as:
Weekly yoga
Lunch & Learn sessions and financial webinars
Company-sponsored volunteer opportunities
Happy hour/ice cream socials
Food trucks and lunches
Kickball
Cornhole and ping pong tournaments
Bingo
Game streaming and bracket contests
Topgolf outings
Holiday Parties/events
Giving Back To Our Community
Part of our ethos at Atlanticus is focused on service, accountability, and responsibility. We prioritize financial and community advocacy in everything we do, and that's why we are involved with organizations such as Hands on ATL, Operation Gratitude, Impact Collective and many more. Not only do we offer teams company-paid time off to volunteer, but our employees devote their own time to fulfilling causes, as well. From those who lead annual Toys For Tots drives to helping at the animal shelter (and everything in between), we stand behind our mission to inspire a collective responsibility for the communities that we serve.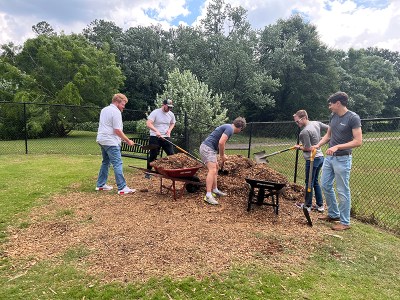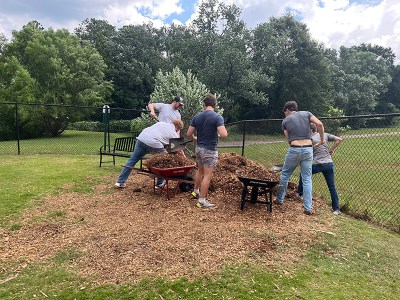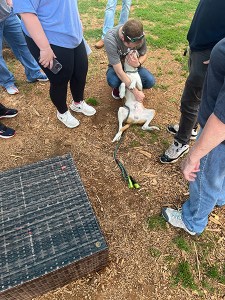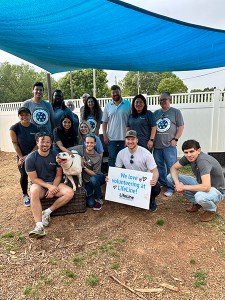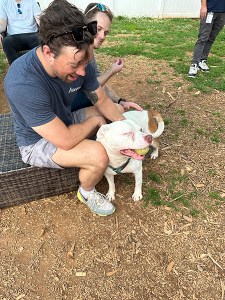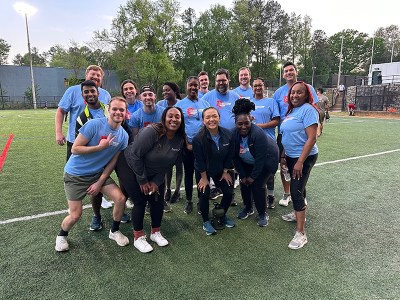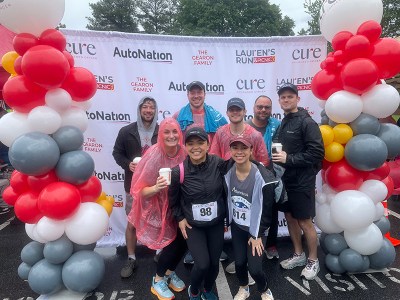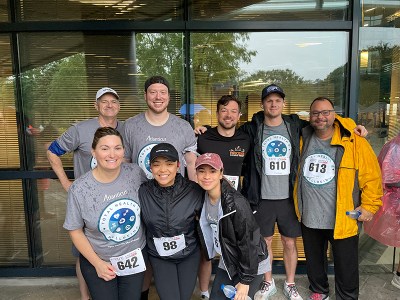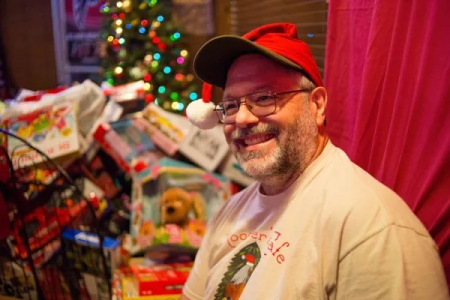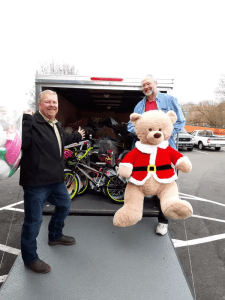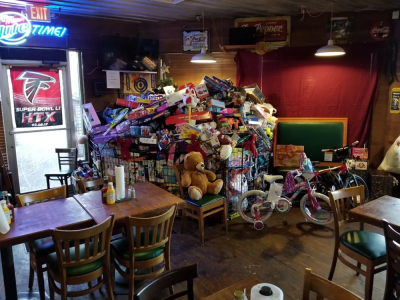 It is the policy of Atlanticus to provide equal employment opportunities without regard to race, color, religion, sex, national origin, age, disability, marital status, veteran status, sexual orientation, genetic information or any other protected characteristic under applicable law.